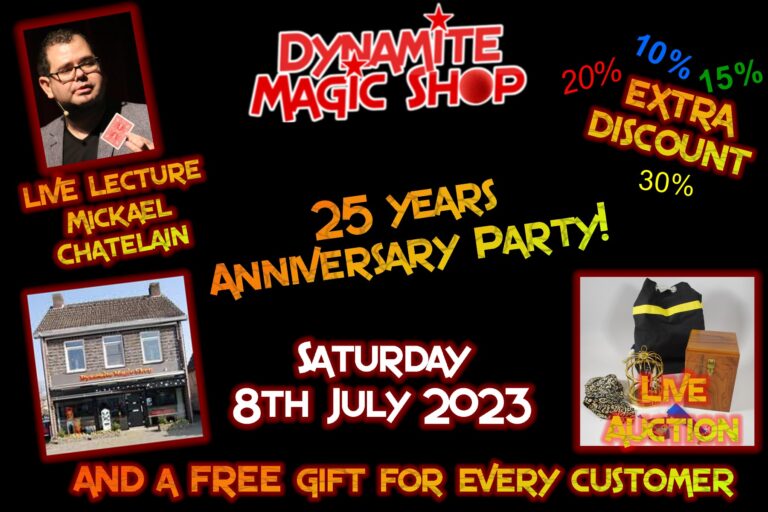 Saturday, July 8, 2023 – Celebrate the 25th anniversary of Dynamite Magic Shop with us!
What can you expect on this day?
There is an "afternoon and evening program".
The Afternoon program in our store:
Our store is open on this Saturday from 13.00 – 17.00 hour and you can expect the following:
A snack and drink
Special discounts on your purchases that you may want to make this afternoon (you decide your discount yourself.. you will discover how that works during your visit)
An extra gift for everyone
And perhaps even more that we cannot yet reveal with certainty.
The evening program will take place at "Het Wapen van Velden, Rijksweg 101 in Velden":
A live auction will take place at 18.30 hour, not to be confused with our bi-weekly live stream. This will be an auction of beautiful items that we have been collecting for a while to auction on this day. You can therefore bid per auction on the items offered on this day. More information about this will follow on the evening itself. This auction was supposed to last about an hour.
At 20.00 Mickael Chatelain will give a lecture for us, he is coming from France to the Netherlands especially for this lecture and will show you his creative ideas, and of course he also has a lot for sale at the most competitive prices.
FAQ
Where can I stay between 17.00 and 18.30 hour?
Well, you can grab a bite to eat at the Chinese restaurant or one of the two cafeterias we have in Velden. All within walking distance of the store.
Do I have to be present all day?
No, you can decide everything yourself! If you just want to visit the store, you can, but if you only want to come in the evening or later in the afternoon, that is also possible. Keep in mind that the store itself closes at 17.00 hour. and after that time no more items can be purchased in/from the store. But of course you are very welcome to stay all day with us!

Do I have to register?
No, that is also not necessary and completely without obligation. We therefore have no idea how many visitors will come, so that is also a surprise for us.
What are the costs for this day?
It's totally free! It is a gift from us to you as a customer! Only if you want to make purchases in the shop or at the auction will it cost you money